Brace yourself, Modern Client Management is Coming!
Winter is coming, as the warmth from Microsoft Ignite has come to an end. For those who attended - what a week it has been! For someone like us in the MUE-team at Innofactor, who works with client management, Christmas came early! Let's have a look on how Microsoft intend to change the framework of client management, from a traditional way of thinking to a more flexible, productive and modern way to meet the needs from the end user. The you and me in IT.
The demand in technology over the last couple of years has changed dramatically, and a modern end user no longer has a desktop PC at an office where they come in to work from 9 to 5, realizing that we are listening to that song from Dolly Parton as we write this.
Users have gone from working on a single business owned device, running legacy applications, to be a multiple device user. They are consuming cloud managed SaaS applications across all their devices, on a platform they demand is always up to date.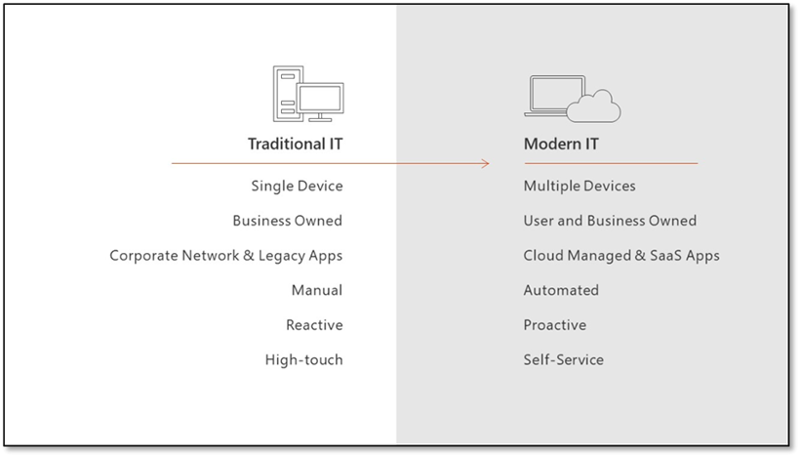 Picture text: As an IT organization you need to empower your users by adapting to these new ways of working with a Modern Client Management.Do this by doing it with the Microsoft 365 way of thinking.
A new era of client management is about to be written – What a time to be alive!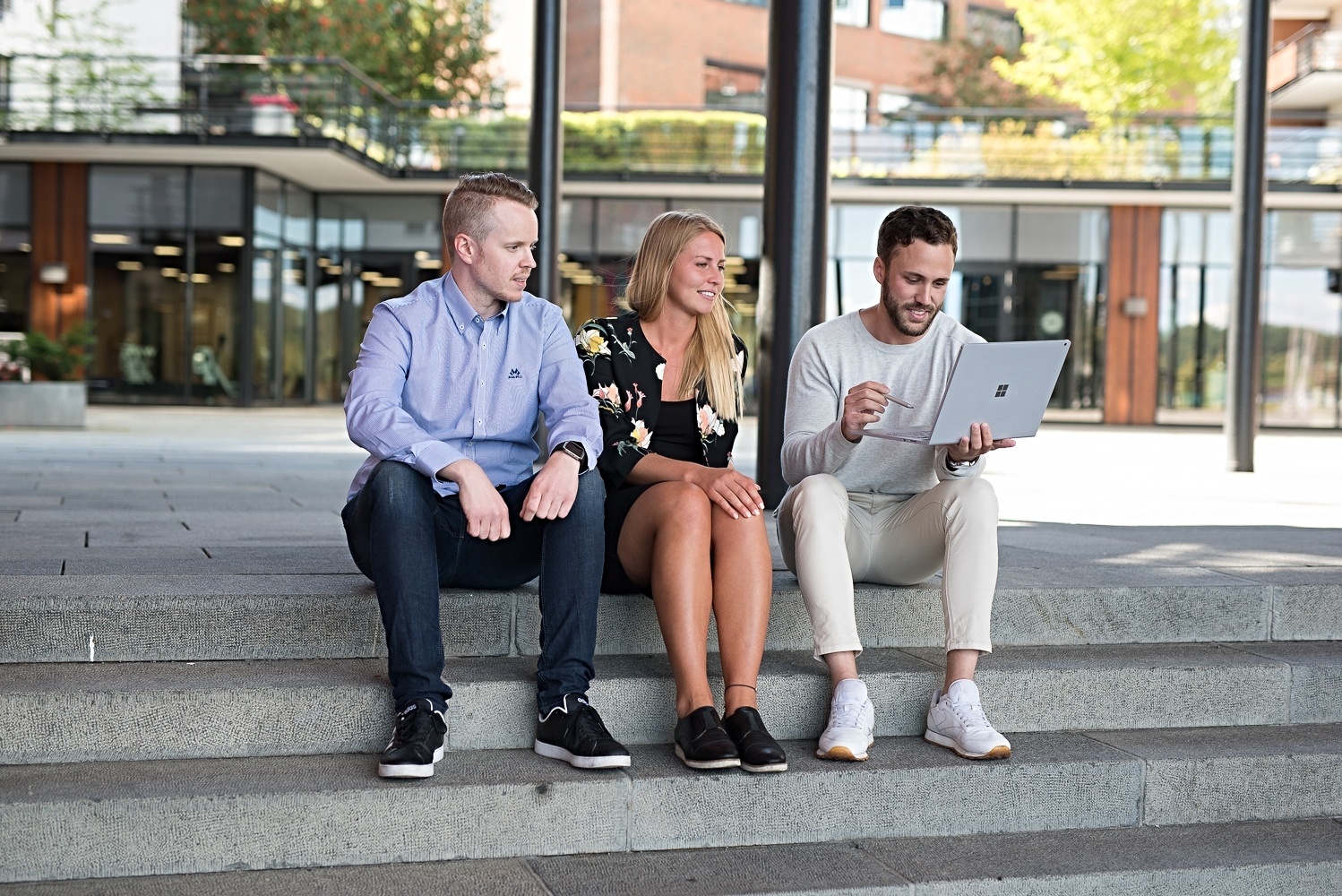 "What is Microsoft 365?", you might ask. To quote Brad Andersson, Corporate VP at Microsoft:
"The solution end users love, and IT trust".
Microsoft 365 is the concept of how to deliver a client platform, in a secure and simple way, to empower the users across multiple devices and at the same time utilize the full potential of Microsoft product suite, and all of this is simply built in Microsoft Azure.
A Microsoft 365 powered device is a device that is running Windows 10, with Office 365 ProPlus installed, and managed by Enterprise Mobility + Security (EMS).
There are many benefits with Microsoft 365, that we can't mention them all in one blog post. But here are some of the key features that we think deserve some extra time in the spotlight.
Client Deployment and Management
Always up-to-date
Built-in Security
Client Deployment and Management
Do you remember all the times a new device has been ordered? How long has it taken the user from before they receive the device? Traditionally, the computer has been delivered to the local IT department - maybe that one guy, who then goes through the process of provisioning and preparing the computer, and then send it to the user. This is a process that usually takes days or even weeks. "Dang, he's on vacation, oh well. Maybe next week. I just hope he remembers to install Visio like I asked him… "

With Microsoft 365 and Windows Autopilot, this process has fundamentally changed. The device no longer needs to be sent via local IT. Instead, it can be shipped directly to the user, and in three simple steps get started with his or her computer.

1. The end user unboxes and turn on the new device
2. Select a language and keyboard layout
3. Connect to any network (there are no longer any requirements to be on the corporate network)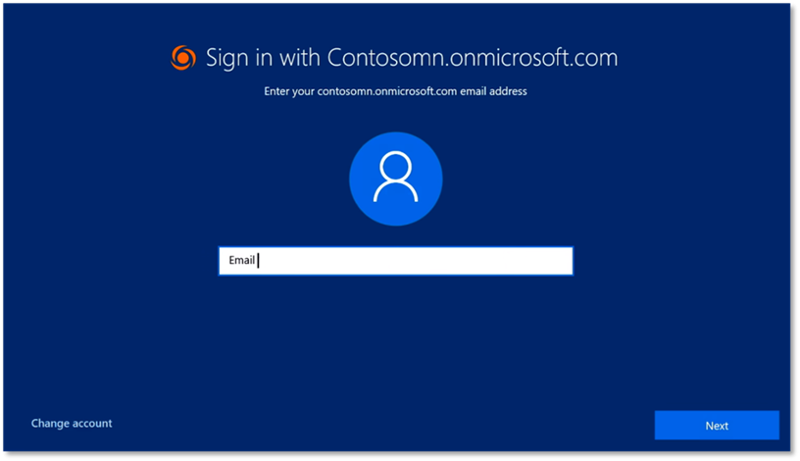 Picture text: A device is recognized as a device belonging to your organization, the user is Welcomed to your organization and is asked to log on.
The user is now presented with a custom designed welcome screen, specifically for your organization.
As soon as the user enters his or her credentials, the device will automatically start applying the pre-configured settings and security policies. The user's email, files, and applications are also automatically deployed.
This is a true Out Of The Box experience. What used to take days or weeks, now only takes a few minutes.
Always up to date.
That's right, no more patch management for you! Since Microsoft stated that Windows 10 is "Windows as a Service", with Microsoft 365 you are provided with updated maintenance patches for all your Windows 10 devices. With a pre-configuration of an update schedule for your users, all these Windows updates, that you previously needed to download, package and push to your organization's devices, are now pushed automatically to your users' devices. You, as an IT administrator, may now sit back and enjoy the ride and all the Windows 10 devices will always be up to date.
Built-in Security.
Security, last but not least. It might be the most important feature within Microsoft 365. In a world where threats are getting more and more sophisticated, how does Microsoft intend to approach with Microsoft 365?
We start off with the operating system, Windows 10, which probably is the most secure operating system by Microsoft, so far. Features like Windows Hello, Credential Guard, BitLocker, Exploit Guard, and Windows Defender all contribute to secure your operating system and helps you as an IT administrator to enable extra precautions on your devices.
Microsoft 365 utilize the advanced threat protection services provided by Microsoft, The Windows Defender Advanced Threat Protection (Windows Defender ATP) and Office 365 Advanced Threat protection (Office 365 ATP).
Windows Defender ATP helps your IT staff and your organization to gather and analyze data from attacks targeted to your Windows 10 devices. Office 365 ATP work in the same manner, but with data from attacks targeted towards your Office 365 productivity services. Together these two then work with gathering the data Microsoft Intelligent Security Graph, for you to analyze, identity and take actions towards potential threats.
This continuously helps you to protect your organization.
Wrap up!
There are probably a million things to say about Microsoft 365, and a blog post isn't enough to summarize many of the totally awesome things it brings with it.
One thing is clear, Microsoft 365 is a true game changer when it comes to client management. The ways you are able to empower your users with this complete intelligent solution. The provisioning of the device has gone from days/weeks to minutes. And the users will have access to a complete, intelligent solution that provides the possibilities to be creative and work together in a secure and modern way. All this without a single infrastructure device on-premise.
---
---
Niklas Jern
Consultant

Niklas is working within the Mobility User Experience-team at Innofactor. Niklas is a firm believer in cloud technology and thrives in utilizing the full potential of the cloud.