We are a leading provider of digitalization and cloud solutions in the Nordic countries.
Learning with DigiStar #Part2 – No one is born a master
Innofactor's DigiStar program was organized for the third time in 2021. New graduates, career changers, and people who are in the final stages of their studies and who are enthusiastic about modern technologies may be selected for the program. In 2021, a total of 14 DigiStars started working in different roles around Innofactor's Finland offices. In this blog series, Miika Mikkonen, who started at the Tampere office, shares his honest experiences along the way. In this post, he shares his thoughts about projects, lessons learned and even minor concerns during the summer season.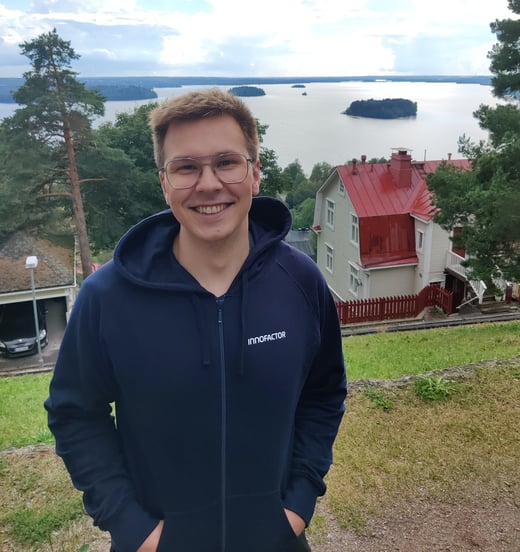 A surprisingly busy summer period in the world of Microsoft technologies
Summer is drawing to a close, and fall is already around the corner. Even though everybody said that it may be quiet in the summer, I haven't had a problem. During the summer, I have been able to work on many projects to develop, modernize and help colleagues in other business units with, for example, the styling of CRM system and, oh, yes, I have also completed the Microsoft Azure Fundamentals certification.
So, I have worked on a number of technologies, and sometimes – especially at the beginning – I wondered if I had bitten off more than I can chew. But (even as a slight surprise) I managed to do everything that I promised, and the customers have been satisfied. I am also grateful that during the summer, when I was able to dive into the real jobs, I didn't get too much pressure from my team members or the supervisors. Before starting a new job, we always talk about what we currently have on our plate and whether it is possible to take on more work. The only negative stress has arisen largely out of a desire to get things done efficiently and as well as possible.
Plenty of time to learn the technologies properly
What I have appreciated in the DigiStar program is the fact that it has been possible to spend time getting familiar with the technologies. In the early stages, I'm encountering a lot of unknown technologies, and I have to spend a reasonable amount of time studying them before I can create solutions for customers. This has also been supported by training projects that have allowed me to dive deeper into Microsoft technologies, and the projects have also benefited the customers. These have helped me to get to grips with, for example, the development of Teams apps and the customization of the SharePoint environment.
It has also been nice to develop solutions so that when you do development work in an M365 environment – whether it is Sharepoint, Teams, or PowerApps – you also get an idea of how, for example, PowerApps can be used in SharePoint or how SharePoint sites can be imported into Teams. Such an opportunity to combine and create solutions in an M365 environment creates endless opportunities to develop new things, so learning never stops. The M365 ecosystem is so huge that you can always find something to learn that matches your interests.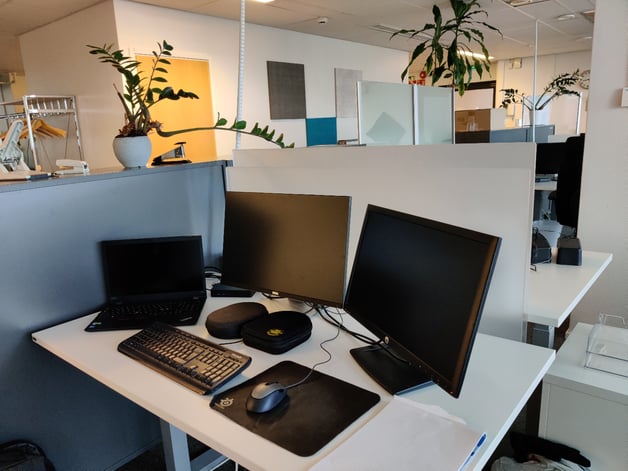 There's no shame in asking, and no one is born a master
While researching technologies, there will inevitably come a time when you need to ask someone for help. In these moments, you realize that you can always find help when you're prepared to ask – whether you're asking your own team or outside your own business unit. I have noticed this very clearly in our office in Tampere, where I am the only employee in my own unit. I have been able to talk and work with colleagues with different competencies and expertise in different areas.
Before I got involved in the projects, the biggest cause of stress for me was the suspicion that my level of competence may not be sufficient for the projects. I have tried to remind myself that we are in the induction phase, and no one is born a master. No matter how obvious it sounds, it's difficult to believe. However, by the end of the summer, it has finally become clear – no, you don't have to be a pro from the get-go, you develop to become one. In my opinion, Innofactor has done a fantastic job of encouraging development. My own interest and desire to learn and develop have become by far the most important thing, and although its importance is much advertised, many novice IT professionals still consider their own starting level as a bigger influencing factor. But the desire to learn and develop is what makes the best experts in the field of IT.
Top 3 achievements of the summer
So far, my desire to learn and develop has been useful enough to have enabled me to do cool things from the perspective of such a young expert. The top 3 things I've been able to do during the summer have been:
Performing the installation of TeamsMate for a customer.
My own development project, in which I have been able to use my own competency with TypeScript and React, to deepen the development of Teams apps and to take advantage of the possibilities of Azure and Graph App.
Completing Microsoft Azure Fundamentals Certification. In addition, I attended the Scrum Basics training in a small group at the Espoo office. At the same time, I met with colleagues from different parts of Finland and from different units.
Summer has been a very valuable learning experience, and although I was perhaps a little skeptical about how much you can learn in a few months, I was surprised. The next step is to head towards fall and new projects, once one of the biggest projects of the summer have been completed. The goal is to complete Microsoft Security, Compliance, and Identity Fundamentals, as well as Power Platform Fundamentals certificates during the fall/end of year and get to work more with the Azure Cloud. We'll see in the fall, if I've succeeded!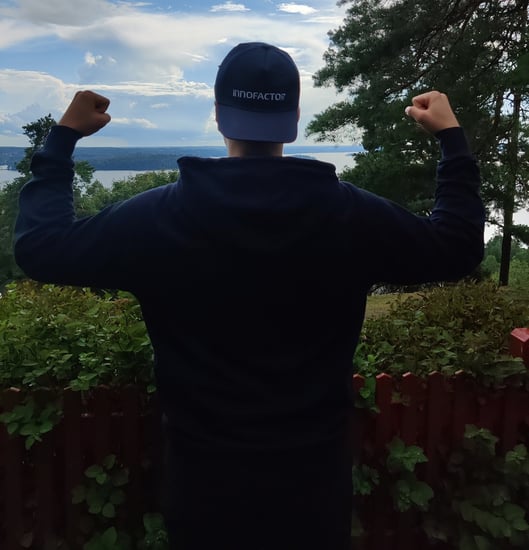 Make sure to also read Miika's first (published at the beginning of June 2021) blog: Learning with DigiStar #Part1 – I immediately felt like a part of the team