We are a leading provider of digitalization and cloud solutions in the Nordic countries.
Innofactor Career Story: Ville, Software Developer
The Innofactor Career Story blog series introduces us to the careers of Innofactor employees and to their experiences of working at Innofactor. The employees featured in the series will also reflect on some of the most important future themes in their field.
First up is Ville, who currently works as a Software Developer at Innofactor's Espoo Campus.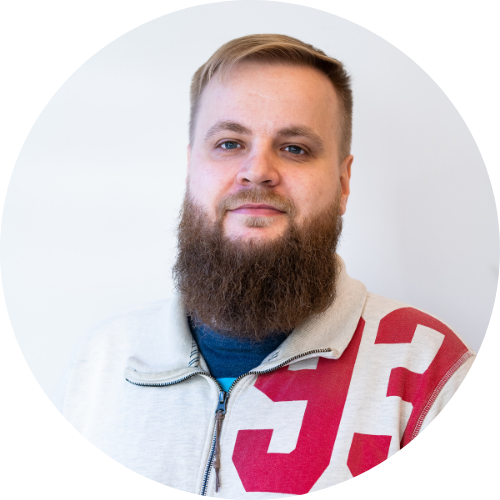 My career at Innofactor started in 2015 when I was looking for a workplace where I could complete my graduate thesis. Instead of landing such a place, I was actually employed by Innofactor and worked for a while as a website developer. I've worked as a full-stack developer in my current team for five years or so.
I'm part of a team consisting of a Scrum Master and designer plus seven coders working at the customer interface. Work at Innofactor is self-organized, and every team member can take the role they want in projects. In addition to full-stack development, I've also had the opportunity to try out the role of Scrum Master on the team. Of all the various work tasks, I prefer coding. I found the spark for coding at an early age when I was coding simple games using the Visual Basic programming language.
What I like best at work is the trust that my employer places in us professionals. Innofactor offers its employees freedom and responsibility in carrying out projects. For example, we can make decisions about the technologies we use independently in the teams. Customers also have strong trust in us, and our customer relationships are mature and durable.

---
"What I like best at work is the trust that my employer places in us professionals."
---
In addition to good customer relationships, we have a great team spirit at work. One of my best memories from work is when my unit decided to reward me with the Excellens Awards at Innofactor's InSpirit event. InSpirit is an annual event organized at the beginning of the summer and attended by all Innofactor staff, including employees from other Nordic countries. In addition to awards, the event includes other program and activities, and the day ends with an outdoor party at the Espoo Campus.

I believe that the growing importance of data security and the responsibility that coders have in data security maintenance and project planning will be some of the major themes in the future. Through their choices, coders influence the realization of data security, and small details can play an important role.

In my free time, I follow soccer and play board games. I occasionally play video games, most recently Elden Ring, and also like to read when the time is right. I think the last book I read was Terhi Kokkonen's debut novel, Rajamaa, which was a good one!