Innofactor celebrates its 20th anniversary this year. During the past 20 years we have helped our customers in building the modern digital organization and positively impacted the daily lives of millions of people. The anniversary inspires us to make an impact also beyond our digital solutions. As a result, we created a campaign, where together with Innofactor employees, we will carry out 20 good deeds during the anniversary year.
We invite you to follow innofactorians' good deeds in this blog that will update during the year.
1. Green coding workshop gave our employees ideas for more energy efficient coding
In the beginning of the year Innofactor's employees thought about tackling climate change from the coding point of view. As a result, we decided to host a workshop about the subject. The workshop attracted a lot of interest amongst our employees and the participants received valuable tips for greener coding, which saves both expenses and energy.
Energy efficient coding is important because the code that is written now will likely still be in use in 5-10 years' time. Our professionals found 5 areas, where developers can make more sustainable choices: front end, back end, hosting and network choices. Read more about tackling climate change as a developer in our blog!
2. The city of Espoo's employment services was pleased with computer monitors donated by Innofactor
The city of Espoo's Tietix computer workshop is a place where the employment services' customers can learn how to code Python programming language and are coached towards a job or further education in the IT sector. When Innofactor heard that the workshop needed more computer monitors, we instantly wanted to help. Our CEO Sami Ensio comments on the donation as follows: "It's great to be involved in supporting the Tietix workshop, where customers are wondering whether they could find a new career in the IT sector. The IT sector offers many kinds of career paths for people with different backgrounds and experiences."
3. Electric and hybrid vehicle charging points make the daily life smoother at Espoo Campus
As electric and hybrid vehicles are becoming more common by the day, we also noticed a need for charging points at Espoo Campus. During Spring, we installed four charging points to our Campus. The charge points gathered a lot of interest and excitement among our employees.
4. Mustikkaan.fi helps in locating Finnish blueberries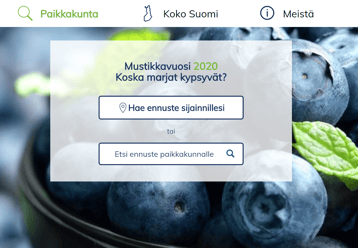 In an internal hackathon, Innofactor's employees got a chance to develop a model that predicts blueberries' stage of ripening. The model is published at www.mustikkaan.fi. The site has been developed for already three years and this year it has attracted record number of interested visitors.
5. Chocolate bars brought smiles to innofactorians' faces
In the prevailing coronavirus epidemic situation, we wanted to cheer up the daily lives of innofactorians. During Spring, we sent Fazer's customized chocolate bars to delight our employees all around the Nordics. The chocolate bars were welcomed with plenty of happy reactions across social media.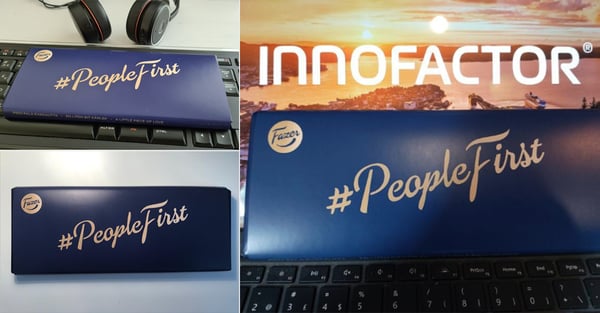 6. Kaikille kone (Computer for all) campaign creates equal chances for remote studying
In Spring, Innofactor participated in Kaikille kone campaign that helps organizations donate their redundant but working laptops to students. This year's campaign exceeded its original goals and helped secure a massive number of computers for remote studying. The campaign makes sure that no one is left behind in their studies due to a lack of computer.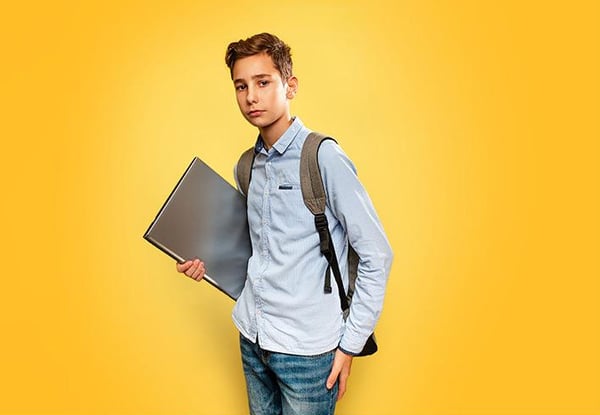 7. Rent relief helped out a restaurant at Innofactor Espoo Campus during the coronavirus epidemic
As the coronavirus epidemic situation worsened in March, Innofactor's employees shifted to remote work already 12th of March 2020. At the same time, the restaurant operating at Espoo Campus closed its doors. To support the survival of the restaurant, Innofactor granted the restaurant four months rent relief. The restaurant opened again on 1st of June 2020.
8. Free-of-charge webinars gave tips to efficient and secure remote work
During Spring, we arranged several free-of-charge webinars focusing on remote work best practices and how to do the shift to widespread remote work. The webinars also covered the effective use of Microsoft's different tools in exceptional conditions.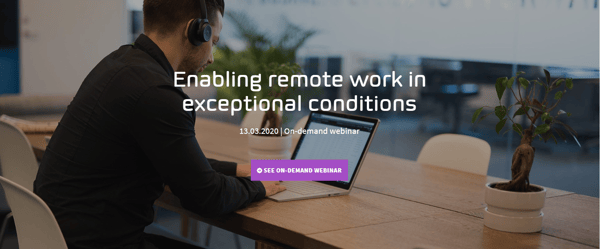 9. In-house coaching gives new insights
This year Innofactor has started to execute in-house coaching to all interested employees. The coaches are BCI Business Coach certified or to-be certified innofactorians. Coaching gives the possibility to develop employees' problem-solving skills and help them in defining and reaching their goals. We will tell more about our in-house coaching at Innofactor during the year 2020!
10. Clean shores with kayak plogging
Innofactor's Espoo Campus is located in Keilaniemi in an area of particular natural beauty by the sea.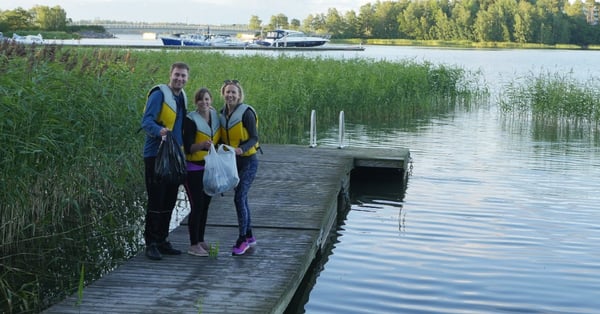 Over the years, we have given many donations to the Baltic Sea and now our employees decided to also take action to keep the sea clean. Our office kayaks provide an excellent way to collect trash from sea and shores.
11. New app ensures a safe return to the office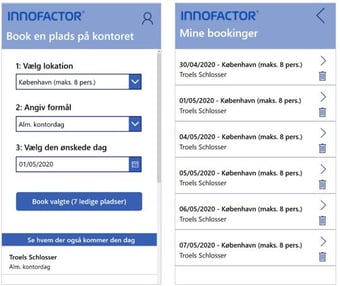 To help employees return to their work places safely during the coronavirus epidemic situation, Innofactor's Danish developers came up with a solution. Using Microsoft Power Apps, the developers quickly designed a new app, where employees can book a office seat before leaving for work. This ensures that offices do not become crowded and employees can maintain social distance when returning from remote work. The app is free of charge and can be customized to fit any organization using Office 365.


12. Innofactor donated its website to a good cause in September
Innofactor participated in the Finnish Red Cross' Hunger Day campaign on September 23th-26th by donating its website to collect donations for the disaster relief fund. When entering Innofactor website, a person can choose to donate online and help the ones that are most vulnerable. With funds from the general Disaster Relief Fund, we support long-term development cooperation and the victims of disasters, conflicts or epidemics throughout the world.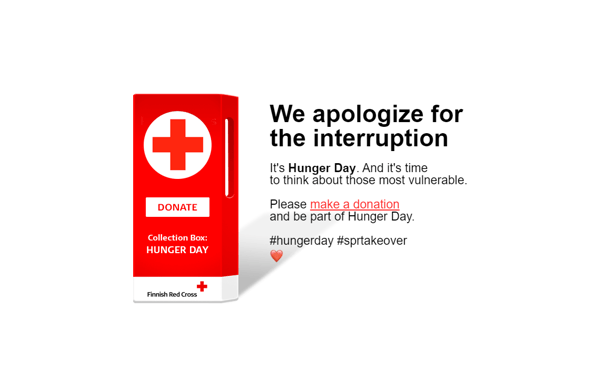 13. Innofactorians challenging each other to go veggie on World Vegetarian Day
A vegetarian diet has proven health benefits and helps in preserving the planet. We encouraged all innofactorians to go vegetarian for the day and share pictures of their dishes and recipes with us. The day sparked new ideas for cooking and trying out vegetarian options.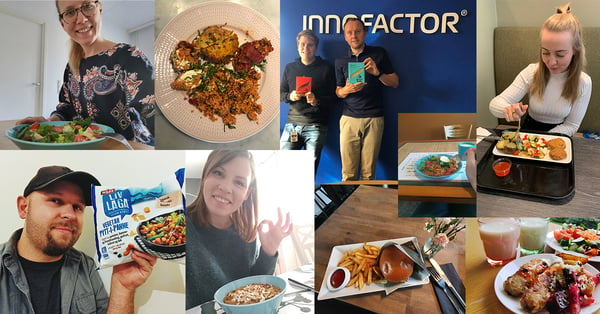 14. Innofactor's BloodGroup helps in saving lives
A group of enthusiastic innofactorians established a Finnish Red Cross Blood Group, where interested employees can join to regularly donate blood. The group makes regular blood donations easier and you can go donate together. Five donors can help as many as 15 patients at a time!
Topics: Employee Stories, Recommended, Sustainability
23.7.2020
---
---
Elina Sonninen
Junior Content Marketing Manager & Nordic Sustainability Lead

The writer is a sustainability and marketing professional motivated to make sustainable business the new normal. She is curious to find new possibilities to leverage sustainability in organizations, such as taking advantage of digitalization and modern technologies.