Why now is the perfect time to move your SQL database to Azure?
Nothing lasts forever, and that is also the case for support for Microsoft SQL and Windows Server 2008 and 2008 R2. As the end-of-support (EOS) is approaching quickly, you might be wondering what it has to do with your organization? Well, if your organization is using these servers as part of your application or service infrastructure, quite a lot.
What's happening with SQL Server 2008 in July 2019?
Microsoft SQL Server 2008 and 2008 R2 end-of support date is July 9, 2019. After the end-of-support date, no new security updates will be released for your Microsoft SQL Server 2008 and R2 based servers. This means that your potentially business-critical applications and services leveraging them will become exposed to outside threats and vulnerabilities. You could risk your business becoming non-compliant with regulations, such as GDPR or PCI. That's why it's a good time to take a look to the future and start to prepare moving your SQL databases to a modern, secure platform.
How to ensure that your databases are secure also after July 2019?
Doing nothing is not an option most businesses and organizations can afford. While purchasing continued support for your on-prem server is technically still an option, it's likely the costliest one. With the cloud offering an increasing amount of benefits and peace of mind, running a critical database on-prem is slowly becoming a thing of the past. More and more organizations turn to a scalable, and secure cloud platform, like Microsoft Azure, to host their databases in.
Luckily, Microsoft is offering several options for customers currently running SQL Server 2008 on-prem to keep their applications, services and data secure by moving to Azure. Let's have a quick look at the options:
Lifting and shifting your current SQL Server and Windows Server 2008 workloads to Azure and benefiting from Microsoft's limited offer of 3 years of continued security updates for free. It is the fastest option that buys you time, but you'll still need to upgrade your database at some point.


Taking a bit more time to design your application or service to run on a newer SQL database version on Azure, such as Microsoft SQL Server 2016. This means more work but gets you on a modern SQL server version with support for years to come.


Moving to a fully managed intelligent cloud database with Microsoft Azure SQL. This option requires more work on your application and service but gives you peace of mind and saves time and resources in the long run, with Microsoft managing all needed patching and updates of your SQL server.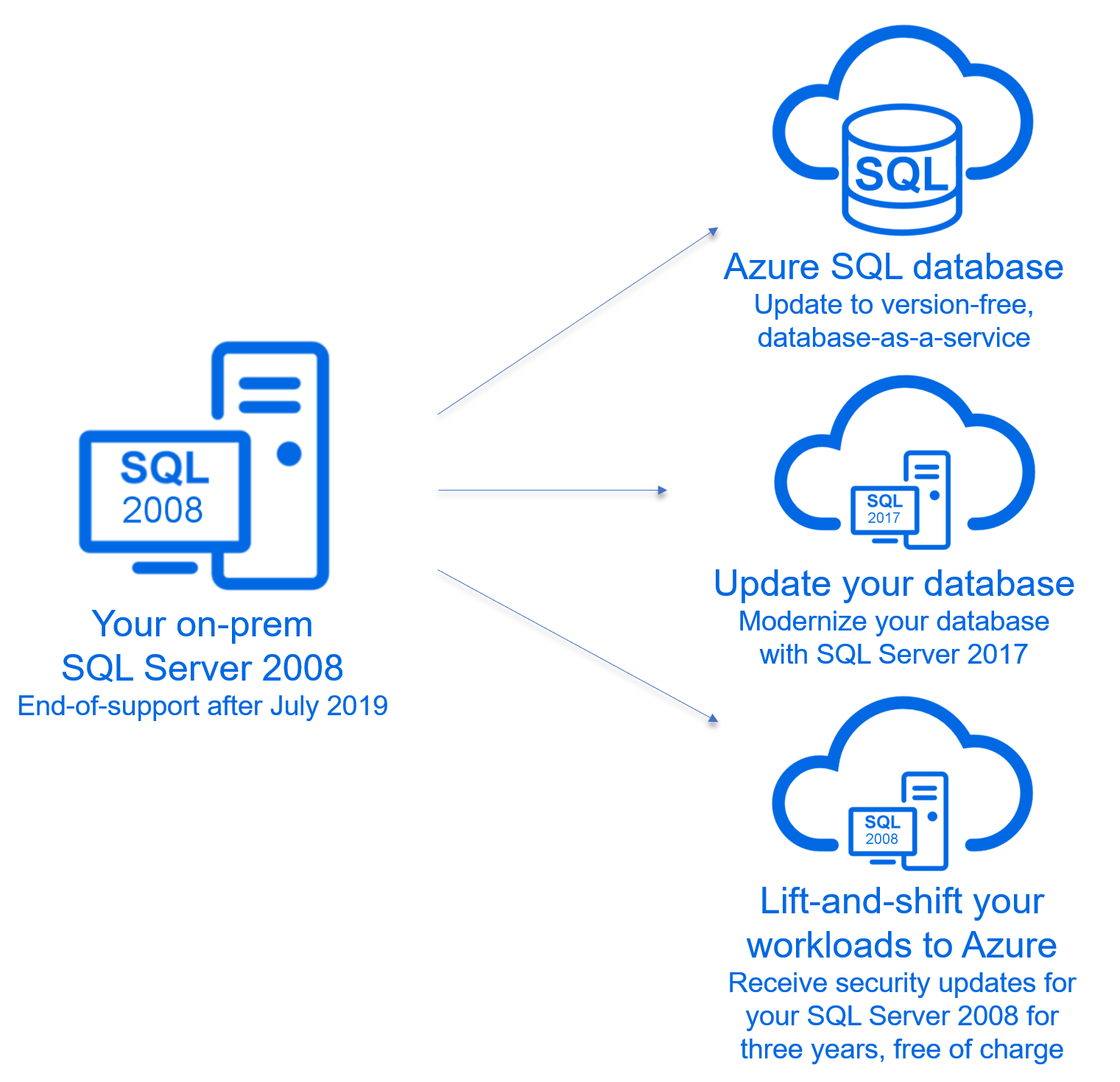 Each of the above options lets your IT department rest assured that your data is protected at rest and in motion. Your organization gets improved cost-efficiency by leveraging the flexibility and scale of Azure and continue to get regular security updates and fixes.
How and when to get started?
Well, how does the actual migration to Azure work? Depending on your organization, the types of applications and services you have, and the migration option you choose, it will take some time to plan the right approach. So, getting started well ahead of July 2019 is advisable. Since the migration approach will determine the time and cost related to successfully implementing it, you will want to put enough effort in planning to choose the option that's best for you. It's also good to ensure your current cloud competencies and governance are up-to-date and if not, how to get them in shape before moving to the cloud. Following a successful migration, your organization gets a more secure and better performing database landscape that keeps your IT department happy, lets your legal department sleep at night and allows your business teams to focus on value creation.
Working with an experienced partner makes the migration journey a breeze. Why not book a free workshop, where we map out your organization's current state and help you figure out which solution would work best for you? We don't just do lift-and-shifts: we can also help you with the assessing the option of re-doing some of your applications and services to work with the latest Azure database solutions, do the associated development work with you as well as ensure that your cloud governance and roadmap keep you ready and set for the future. Interested in hearing more?


---
---
Jens Holm
Solution Sales Manager, Cloud Platform

Jens is Innofactor's professional, specialized in cloud solutions. Jens has over 20 years of technical experience and he has lead several projects related to ICT systems in small and large organizations. Jens has a great hunch of which of the customer's services are best suitable for cloud, datacenter and what services would benefit from a hybrid solution. He is inspired by discovering solutions that support organizations' business and provide the company added value.